Yes, that is what I have been doing. Not much else actually. I have been dreaming about other projects but thought that I should get as many soakers and longies done before the end of November so that the babies in Russia can use them.
So here they are...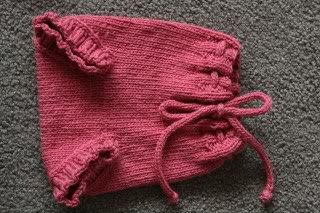 My next project is another knitting one! I am going to start a boat-neck sweater for Elsa. It is out of a book by Debbie Bliss called Baby Knits for Beginners. I want to make a matching hat and embelish with a flower on each. Not sure what size to do though! I don't want it to be too small when it comes around to winter! I might have to estimate!

Miss E is almost walking. When I say almost I mean that she can do it she just doesn't want to! She will walk when she doesn't realise she is doing it without holding on but as soon as she realises she falls over! I'm sure she will get it soon and then there will be no stopping her.

We had a lovely first birthday party for her on Sunday! The weather was great and she was totaly spoilt!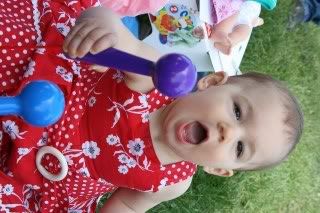 Josef and I made this cake together for her (I am blessed with a creative husband!)
And after some cake! I'm glad her dress was red!